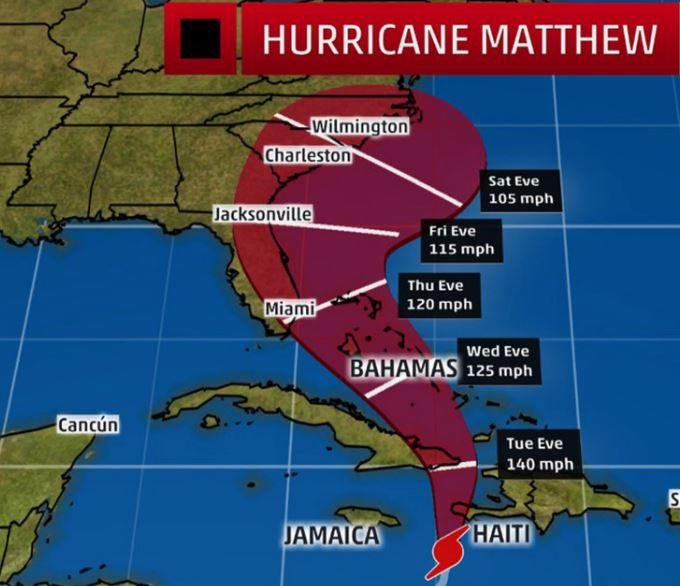 Guardian Pharmacy has always been committed to offering great customer service and doing whatever it takes to provide our customers and their residents with the highest level of care.  In the wake of Hurricane Matthew, which hit the East Coast this month, the staff in several of our partner pharmacies proved their dedication to those principles.
The storm affected many of the facilities Guardian Pharmacy services due to heavy winds, power outages and flooding. In some areas, residents were even relocated following mandatory evacuations.  However, thanks to the foresight and teamwork demonstrated by the Guardian Pharmacy partners, customer impact was minimized and residents received the medications they needed.
In Florida, the Guardian Pharmacies of Tampa and Southwest Florida assisted in filling medication orders for sister pharmacies in Southeast Florida, Daytona and Jacksonville.
Farther north, communities near Guardian Pharmacy of South Georgia and the Winyah Pharmacy in Georgetown, SC found themselves in evacuation zones.  Many evacuees, both Guardian customers and non-customers alike, were sent to homes serviced by Guardian Pharmacy of Atlanta.  The leadership teams of the South Georgia and Georgetown pharmacies worked with Guardian Atlanta to provide residents with the medications they required during their stay.
Southern Pharmacy Services in Pink Hill, NC was also hit hard by Hurricane Matthew.  Many of the areas near the pharmacy experienced heavy flooding and impassable roadways.  The Kernersville, NC location, along with the assistance of the North Carolina National Guard, helped deliver medication to Pink Hill customers that would have otherwise been unreachable.
Guardian is incredibly proud to have such hard-working partners at our local pharmacies.  Thank you to all who were involved in servicing our customers during Hurricane Matthew.  We couldn't have done it without you!