This month Guardian Pharmacy of Jacksonville, a locally owned member of the Guardian Pharmacy family, celebrated their 10th anniversary.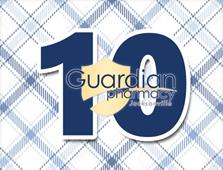 Khristy McClelland, RPh, president of Guardian Jacksonville, partnered with Guardian Pharmacy in 2005, opening the first Guardian location in Florida. Since inception, Guardian of Jacksonville has focused on what matters most – offering the best possible patient care. For 10 years, the pharmacy has been serving residents and caregivers in long-term care communities throughout the First Coast area.
We would like to thank the Jacksonville team for their dedication and service to the long-term care industry. Here's to the next 10!
To learn more about the leadership team and services offered at Guardian Pharmacy of Jacksonville, please visit their website.